So you're a restaurant owner and business is picking up. It's pretty standard practice now for establishments to have their own "embassy" on Facebook, serving as a gateway for existing and potential customers to get more information about the menu, the chef behind it and even obvious things like hours and contact information.
This is certainly a big improvement from those days wherein you had to get someone to build a website for your restaurant because everybody else was doing it. We live in a social world today and it's time to make our Facebook fan pages work for us.
The 15 Most 'Liked' Brands in the world, from Red Bull to Burberry, have one thing in common. Their brand pages are highly visual. Simply Measured, an analytics firm that measures brand performance on Facebook, found a 65% aggregate jump in engagement for photos and videos that brands posted on their pages, while photo-less updates fell over the same period.
Content presentation has becomevery powerful.
Red Bull, the most popular energy drink in the world by volume, mixes up athlete profiles, events and comedy that generate thousands of likes and comments, with video and image posts as the most popular while promotional posts receive significantly lower user interactions.
Similarly, Burberry, the world's most successful luxury fashion brand on Facebook, engages its fans by sharing a lot of unique and exclusive content like posting behind-the-scenes shots from photo shoots and videos from their latest campaigns.
What does this all mean for a restaurant owner trying to lure new customers via its Facebook page?
The bottom line is, everybody loves interactive content over lengthy text. Status updates are great but it is best to mix these up with videos and photos to keep people engaged and excited about the brand. It also does not hurt that videos and photos highly influence Facebook's EdgeRank ratings, an algorithm to determine the content that an individual user will see in the 'Top News' portion of the News Feed.
Once you are ready to add more interactive content into your restaurant's page, you can install the new and improved AppAddictive YouTube Video Gallery app. In under a minute, your page will literally come to life. It's as easy as:
Step 1:  Make sure that you have qualityvideo content on your YouTube channel.
Step 2: Go to this page to install the AppAddictive YouTube Video Gallery player.
Step 3: Configure your page and publish.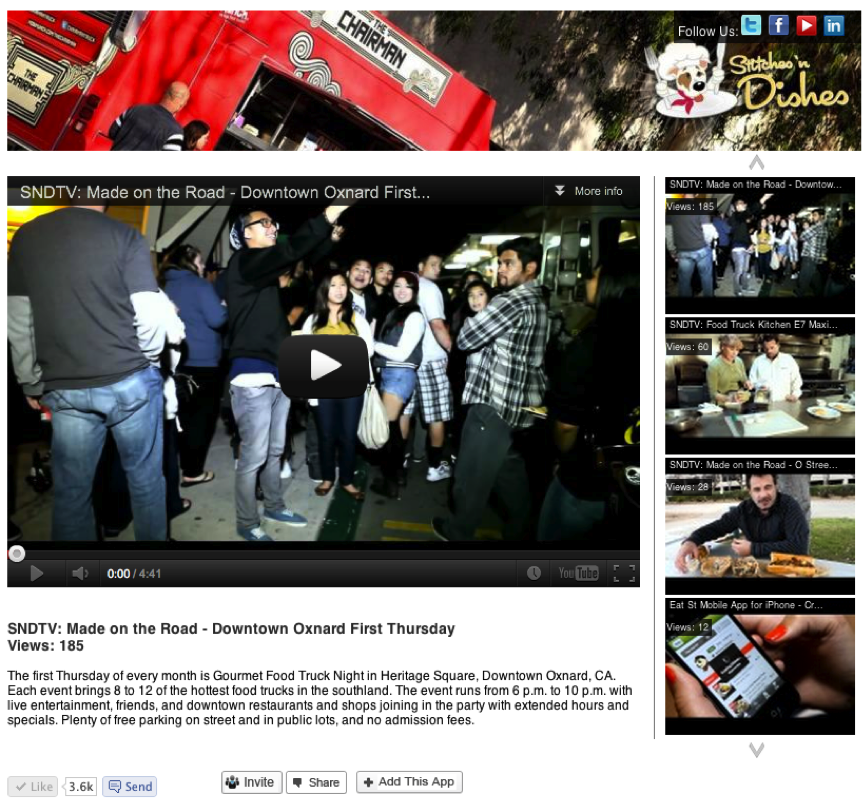 What can you post? The opportunities are endless…
1. Introductions and features: on you (the owner/s), the chefs and restaurant staff, your customers, new menu items, specials, events and teaser content that will build hype and excitement.
2. How to/tutorials: not only an interactive post but also a helpful customer relationship management tool.
3. Entertaining content that fans would never have had access to without the advent of social media: the design and development of the menu, behind the scenes details from the market to the kitchen to the table. Do you have time to come up with weekly series of life in the restaurant? Share it with the world
4. Related brands, products, services, movies, songs
… BUT don't forget that it is important to limit the length of videos and set expectations within the text to tell your fans what the clip is about.
For further inspiration, check out the pages of the people who get it (they pass the AppAddictive test!)
Eataly makes fried pizza and calzones in Worth Sqaure!
A Day In the Life of Mario Batali
Summer Crab Boul – tips on "How to" Crack your own crabs
101st oyster! A regular eating his 101st oyster in under an hour
Fastest Scissors in the West: Matt McDonald, Head Baker, preparing our Epi Baguettes

Family Meal Coming Soon For Our Guests – Now the count down begins for something hot to come out of Bouchon Bakery for our guests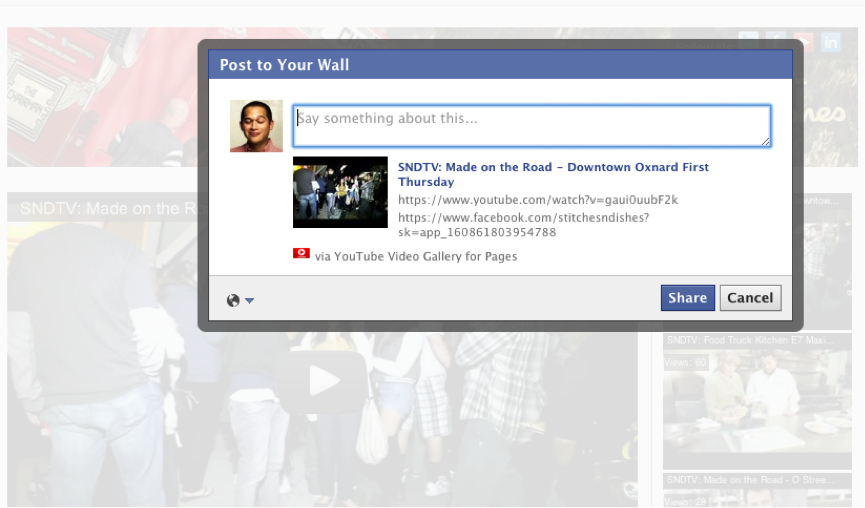 AppAddictive's YouTube Video Gallery app not only adds a new video page on your existing fanpage, it also provides you, the page owner and its users to publish the sa
me video on your respective timelines. As a bonus, we give page owners the ability to upload a custom banner on top. Now take this app for a spin!