Editors Note: AppAddictive has built numerous apps for celebrities and business since its founding in 2010. As part of our commitment to help appreneurs get their start in tech, we're sharing stories of people who have successfully run app-based businesses for their communities.  From best practices to ways on how to acquire users and retain customers, we bring key learnings direct from the source. We hope you enjoy it!
Since uploading her first video in 2010, Los Angeles based Tiffany Rothe has garnered an impressive 110,000,000 views on  YouTube. Through her 10 minute routines, she has built a community that's committed to burning fat, toning muscle and lose weight.
From Youtube Celebrity to Mobile Apps
Tiffany has always wanted to have an app of her own. "I believe that every action begins with your thoughts" shares Tiffany. Initially she wasn't really sure on how to go about it but her objective was pretty clear – she wanted to create a stronger community with her YouTube subscribers and fans.  Last year, she was approached by a company that specialized in mobile apps for online video celebrities. The mobile app company already had an existing model that covers app creation and monetization, all she had to do was say yes.
Her first foray in the app scene, called Tiffany Rothe, provides a companion app to her YouTube channel. After downloading the app, you can view her video, participate in user forums and take photos. She monetizes her app through a premium daily tips offering delivered via an audio snippet.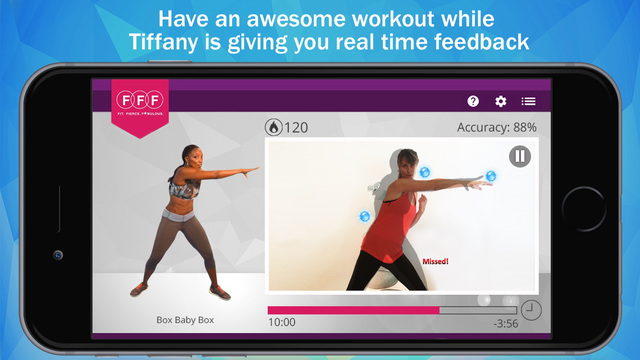 Tiffany has caught the mobile app bug. Early this month, Tiffany introduced "Train with Tiffany" – a groundbreaking exercise app that makes use of your mobile phone and its camera. The virtual workout provides you with the full Tiffany Rothe experience,  with new technologies like measuring accuracy, real-time feedback, social media sharing and gamification elements.
Done in partnership with a company based in Israel, it took her a year to develop and polish the app. This involved countless trips to a studio where she had to record video with a green screen, provided creative input and even got her hands dirty with user testing.  The end result was pretty impressive and it realized her vision of bringing a truly unique mobile experience. It was really an investment in time and tricky considering that she still had a YouTube channel to manage. "What really motivated me was when I finally saw the prototype and I was like "this is so cool!" says Tiffany. Seeing your labor of love launch after a grueling app creation process certainly paid off.
On the business side, having a portfolio of mobile apps is  great way for Tiffany to supplement revenues from YouTube. All her agreements with these technology partners involve some form of revenue sharing. This is good news for other celebrities who are looking to embark on their own app journey.
Transmedia Fitness
With her mobile apps, she's transformed into a transmedia fitness celebrity. Her apps are now closely integrated with her programming making the experience more seamless. The interactivity provided via her apps also provide her with a constant feedback loop, allowing her to adjust her programming if necessary.
On top of her brand-new app, Tiffany is in the process of promoting her Inner Circle Fitclub (ICFC) through a reality show called "The Fittest Winner" that's launching in August 2015. Something that's never been done on the medium, her new program will feature an integrated reality TV/webseries where 8 contestants will participate in physical, emotional and mental challenges with Tiffany.  Of course, her "Train with Tiffany" app will feature prominently in  "The Fittest Winner". At this point, we're definitely staying tuned to Tiffany and her expansion to the tech world.  "It's been a beautiful journey and I'd love to know what people think of it" says Tiffany.